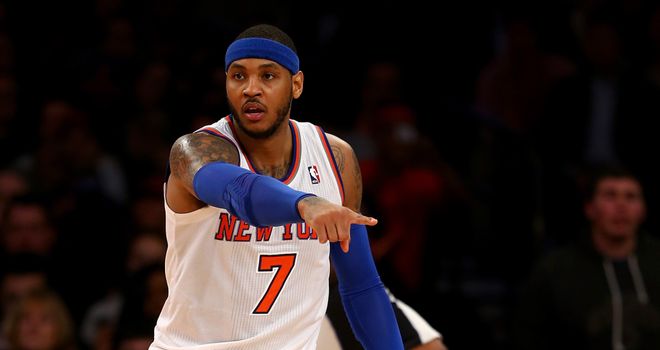 Carmelo Anthony scored a record-breaking 62 points as New York Knicks beat Charlotte Bobcats 125-96 on Friday.
Anthony's career-high total was also the most points registered in one game by a Knicks player and the highest tally netted by a player at Madison Square Garden. Al Jefferson led the way for the Bobcats with 25 points.
Toronto Raptors remain 2.5 games clear at the top of the Atlantic Division following a 104-95 win over Philadelphia 76ers.
DeMar DeRozan scored 34 points for the Canadian outfit, who pulled away in the fourth quarter after a tight contest.
Brooklyn Nets scored 39 points in the second quarter as they claimed a narrow 107-106 victory over Dallas Mavericks.
The Nets have now won four straight as they keep the pressure on Toronto in the standings.
Thundering on
Oklahoma City Thunder did not appear to miss star man Kevin Durant as they eased to a 101-83 win against Boston Celtics.
A 27-13 third quarter helped the Northwest leaders open up a lead which the Celtics could not claw back.
Blake Griffin recorded 26 points and 13 rebounds as Los Angeles Clippers defeated Chicago Bulls 112-95.
Carlos Boozer's 22 points led the Bulls as they saw a three-game winning streak ended.
San Antonio Spurs extended their lead at the top of the Southwest Division to five games with a 105-79 win over Atlanta Hawks.
Boris Diaw poured in 21 points as the Spurs took advantage of nearest challengers Houston Rockets' 88-87 defeat to Memphis Grizzlies.
Chandler Parsons poured in 34 points but it was not enough as Memphis claimed their first win against a division rival this season.
Just Magic
Tobias Harris grabbed a career-high 20 rebounds while putting up 28 points as Orlando Magic overcame Los Angeles Lakers 114-105, while the Washington Wizards toppled Phoenix Suns 101-95.
Eric Gordon's lay-up with less than two seconds remaining handed New Orleans Pelicans a 103-101 victory over Detroit Pistons, and Cleveland Cavaliers eased to a 93-78 triumph over Milwaukee Bucks.
Kevin Martin's basket with 8.4 seconds remaining saw Minnesota Timberwolves to a 121-120 win over Golden State Warriors, while Paul George scored eight points in overtime as Indiana Pacers beat Sacramento Kings 116-111.