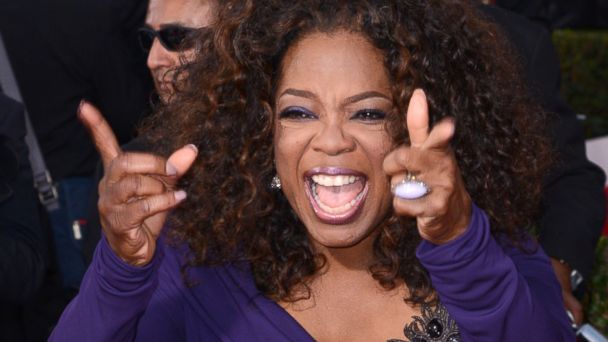 It's hard to believe, but Oprah Winfrey turns 60 years old today. "If you're blessed enough to grow older, which is how I look at aging ... there's so much wisdom to be gained from people who are celebrating the process with vibrancy and vigor and grace," she once wrote about getting older. "Every year should teach you something valuable; whether you get the lesson is up to you. Every year brings you closer to expressing your whole and healed self.
I celebrate that. Honor it. Hold it in reverence. And I'm grateful for every age I'm blessed to become." A few days before her big day, the talk show queen celebrated by working out at SoulCycle, but her plans for her actual birthday aren't clear. But there is one way for you to celebrate now. Brush up on your Oprah knowledge with these 60 fun facts about the former talk show host.
1.
She's selling her condo in Chicago and is moving to her California estate full-time.
2.
The name of her production company is Harpo, which is Oprah spelled backward. It's also the name of the character she was married to in "The Color Purple," her first film role for which she was nominated for an Oscar.
3.
She has five dogs: cocker spaniel Sadie, golden retrievers Luke and Layla, and springer spaniels Sunny and Lauren.
4.
She ran the Marine Corp marathon with her trainer Bob Greene.
5.
She actually wears glasses!
6.
She considers starting a girls' school in Africa to be one of her greatest accomplishments.
7.
She launched Dr. Phil's TV career.
8.
She launched Gayle King's TV career.
9.
She launched Nate Berkus' TV career.
10.
She launched Dr. Oz's TV career. (OK, we'll stop now)
11.
She and Stedman Graham have been together since 1986.
12.
... and though he proposed in 1992, they never wed.
13.
She's on the cover every issue of her magazine.
14.
She launched her famous book club with "The Deep End of the Ocean" by Jacquelyn Mitchard in 1996. It was later made into a movie.
15.
But there was book club controversy too. After she chose "A Million Little Pieces" by James Frey, a book billed as a memoir but later revealed to be fiction, she reamed him out on national TV, drawing praise.
16.
She didn't have children, but she got pregnant and lost a baby at 14.
17.
She was a victim of childhood sexual abuse and helped bring the issue more public attention through her show and legislation.
18.
She famously feuded with David Letterman in the '90s, but they have since reconciled.
19.
She once gave away Pontiac vehicles to her entire studio audience. (Later, when some of them couldn't pay the tax on the car, they were told they could sell it for money.)
21.
Every year for eight years, she made a Favorite Things list, and gave the members of the audience each item.
22.
In 2009, she treated her staff and their families to a European cruise.
26.
She's close friends with Maria Shriver.
27.
She attended Tina Turner's wedding.
28.
Oprah broadcast her show in Chicago.
29.
She's North America's only black billionaire.
30.
She has appeared in many movies.
31.
In 2011 she launched OWN: The Oprah Winfrey Network.
32.
For a period of time, she sang her own theme song.
33.
Oprah's name was supposed to be Orpah, but it was misspelled on her birth certificate.
34.
She has said that she studied Barbara Walters' interviewing style.
35.
In one especially emotional episode, an audience member told Oprah that she once bought a pair of her shoes at an auction and would stand in them when she needed strength.
36.
Oprah is the first African-American star to be on the cover of Vogue.
37.
Anna Wintour told her to lose weight for said cover.
38.
She once competed in Miss Black America.
39.
At 29, Oprah co-hosted a Chicago morning show, and later took it over completely. It became "The Oprah Winfrey Show."
40.
In 1988, Oprah revealed her new 145-pound figure and wheeled out a wagon filled with 67 pounds of fat to represent the weight she'd lost.
41.
But her weight was a constant topic of conversation. In 2008, she berated herself on the cover of O! for gaining 40 pounds by superimposing a bigger photo of herself next to a photo of her in a crop top.
42.
In 2000, she flew the O! staff to her home in Miami so that they could bond.
43.
She got a SAG nomination for "Lee Daniels' The Butler," and fans were outraged when she did not land SAG or Oscar nods.
44.
She's currently documenting Lindsay Lohan's life for OWN.
46.
She appeared on "Keeping Up With the Kardashians," and interviewed the whole family.
47.
50 Cent named his dog after her, and his cat after her best friend, Gayle.
48.
She and Gayle King documented a 3,000-mile cross-country road trip in 2006.
49.
She fought rumors for years that she and Gayle were romantically involved.
50.
She received an honorary Oscar in 2011 for her philanthropic efforts.
51.
She revealed that she had a half-sister, Patricia, in 2011.
52.
She had a teenage crush on Jackie Jackson of the Jackson 5.
53.
Her 1993 interview with Michael Jackson was the fourth most-watched event in TV history at the time.
54.
She's been nominated for a Tony.
55.
She believes she was racially profiled at Hermes in Paris.
56.
Tom Cruise famously jumped on her couch, and later, gave Oprah a tour of his home in Telluride, Colo.
57.
She drew criticism when she appeared on Ellen DeGeneres' coming out episode of "Ellen."
58.
In 2002, she became the first recipient of the Television Arts & Sciences' Bob Hope Humanitarian award.
59.
Forget the cake! Oprah has said that one of her favorite indulgences is popcorn sprinkled with truffle oil.
60.
She celebrated her 51st birthday by getting her ears pierced.